Whether you work from home or are simply looking for a place to sink in and read a good book, this is the list of coffee shops for you. You won't find any franchises here, only independent cafes that you'll want to go back to again and again. And don't forget to check out our list of favorite coffee shops in Dubai, while you are at it.
Alkalime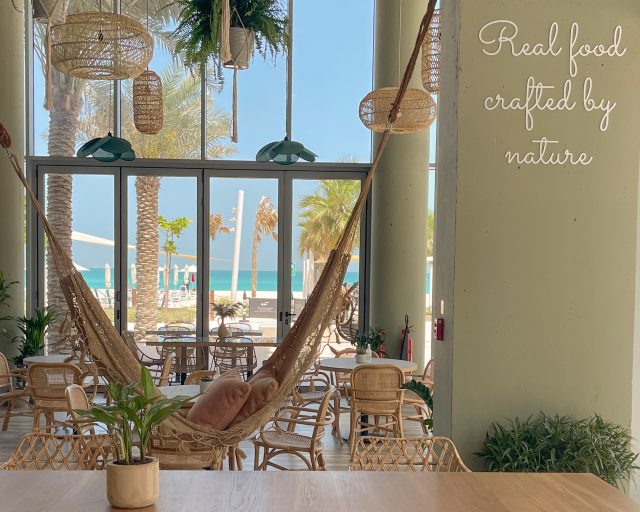 Alkalime is located in the exciting new Mamsha development on Saadiyat Island, and this place is all about the details. Everything from the art on the walls to the homemade condiments is designed to make you feel good. Inspired by the owner Nagham Al Zahwali's time as a student, the restaurant has a communal work space that faces the beach. It's outfitted with plenty of power outlets and staff will never ask you to leave to free up the space for another customer. The space also has a book nook for future book reading and community events.
For the above reasons, the delicious health-conscious menu, and welcoming atmosphere, Alkalime is number one on my list.
Mamsha Saadiyat has plenty of visitor parking. The first hour is free, it is Dh10.50 per hour thereafter.
Art House Cafe
Art House Cafe is a part of the Etihad Modern Art Gallery. With well-designed indoor and outdoor spaces, Art House Cafe is the kind of space that will inspire you out of any creative block. Every room is decorated with the art of past patrons. You can leave your mark as well: Decorate one of the bricks or plates that line the walls of the space, for instance. And if your work ever goes from day to night, Art House Cafe is also a restaurant. PS: if you arrive by bike, you get 25 percent off.
Blacksmith Coffee
Part of New York Univeristy Abu Dhabi, Blacksmith Coffee is designed with work in mind. The cool cafe has counters, co-working space and couches to lounge in. Try their date and cardamom latte. In fact, any of their specialty coffees. You won't regret it.

Boroughs Cafe
Next to Vogue Fitness on Yas Marina, Boroughs cafe has tons of healthy snacks including vegan power balls and bite-sized vegetable offerings, as well as all the alternate milks you could want. The warm tones and plush couches are great for sinking in and getting work done. Also, the quick access to the waterfront is great for when you need a break.
Café 302
Go to Café 302 for the excellent all you can eat breakfast deal, but stay for the ambient atmosphere that makes it easy to concentrate on work. Situated in the lobby of the Rotana Maha Arjaan, the cafe is centrally located. With plenty of tables near plugs for your devices, and an inviting breakfast special, I find myself returning to Café 302 over and over again. The special runs Sunday to Thursday from 8 am to 12 pm.
Coffee Architecture
Owner Nooran Al Bannay created Coffee Architecture with an open spirit. She wanted "people from all walks of life to feel welcome to visit her space." The newly relocated Mamsha Saadiyat based cafe is exactly that, a welcome space to work in with an emphasis on great coffee.
Food Shed
Food Shed is a restaurant and cafe that boasts delicious treats. Tucked behind the twofour54 campus, the cafe is full of sunlight. A modern rustic design is meant to make you feel comfortable. Grab a seat at one of the tables, order one of their arabica bean cappuccinos and get to work.
Local
Local is a multifaceted concept store/cafe with two locations: Al Zeina, which has a barbershop and consignment urban wear space. The cafe part of the shop is intimate, with both comfortable couch spaces and tables for your work needs. They've recently opened up a new location at the new up and coming area of Mamsha Saadiyat. You can find them on the boardwalk across from Soul Beach.
Mirzam
Another popular Dubai outlet made its way over to Abu Dhabi. The chocolatier Mirzam has opened a cafe outlet in Qasr al Hosn, and it is great. All the delicious chocolate goodies you're used to with a variety of coffee and treats. But the best part — in the winter months, at least — is the outside seating with views of the city reflected in Qasr al Hosn's reflection pool. It's quickly become a popular locations for meetings, socializing and work away from the office.
Raw by Nolu's
Raw by Nolu's is an outlet of Nolu's, the popular California-style restaurant. The cafe and juice bar is all about health — think cold-pressed juices and health bowls. The mix of industrial and organic design makes for a very cool space to work in. And if you get hungry, their menu is as cool as their design. Try the salmon tacos, they're delicious.
Sanderson's
Rattan furniture, bright and airy, Sanderson's at Al Seef Village Mall has got a real Mediterranean feel, situated poolside with turquoise banquettes, glass walls and loads of plants and greenery, inside and out. I recommend their kombucha, it's made in-house. If you find yourself in Dubai, they also have an outlet in Sustainable City.
The Third Place Cafe
Photo courtesy Alexa Mena
Right off the corniche, The Third Place Cafe calls itself "that neutral corner that is neither your work nor your home". With an excess of wall plugs and two rooms upstairs designated as quiet zones, The Third Place is a great place to work or study. They have great coffee and a fun and delicious selection of smoothies to keep you going. You can bring your entire team and book one of their rooms for private meetings. Studies say coffee breaks with your team boost performance.
Photo courtesy Alexa Mena

Wild & the Moon
The vegan cafe popular in Paris and then Dubai is tucked away in Abu Dhabi 's Cultural Foundation. Wild & The Moon's products are homemade, made out of wild, organic, local, ethically sourced and pure ingredients, using vegetables, fruits, herbs, roots, nuts, seeds and superfoods. You'll find no refined sugars, additives or chemicals, GMOs, gluten, or dairy in their offerings. Their Abu Dhabi outlet is spacious and perfect for a day of working away from your desk. And when you need a break, pop in to check out the Cultural Foundation's exhibits.
• This article was originally published in 2018 and updated July 25 2021. Have any to add? Email us.

Alexa Mena
Alexa Mena is a multidisciplinary artist and media editor for livehealthy.ae. When she's not writing for livehealthy, she's thinking about design and how it shapes the human experience.