Livehealthy.ae is shining a spotlight on men's health in the UAE throughout November (that explains the mustache on our social media logo). This piece on Omar Nour one of a series of stories on the subject.
Triathlon season means a familiar sight will greet competitors in events across the UAE: the beaming smile of Egyptian triathlete Omar Nour.
Now retired from professional competition, Nour remains infectiously enthusiastic about both his sport and life in general, an approach that has seen him emerge as the face of triathlon in the region. However, competition is not really where he has made his mark. For the past seven years, Nour has played an integral role in making the United Arab Emirates – and the wider Middle East – healthier. 
Nour was an overweight and overworked 29-year-old when he decided to take up triathlon. Just three short years later, he earned his pro-card in the US and raced on the elite Olympic triathlon circuit for six years, before injury pushed him out of the 2016 Olympic Games. 
His fat-to-fit story means he is an avid grassroots warrior who dedicates a good deal of his time to traveling round the region extolling the virtues of a healthy lifestyle and encouraging people to abandon their sedentary lives and take up fitness.
Triathlon has been a key tool in delivering his message and the results are clear. When Nour first moved to the UAE seven years ago, the sport of triathlon attracted few Arabs. But the diversity of the participants competing now demonstrates just how successful the mass tri-conversion has been.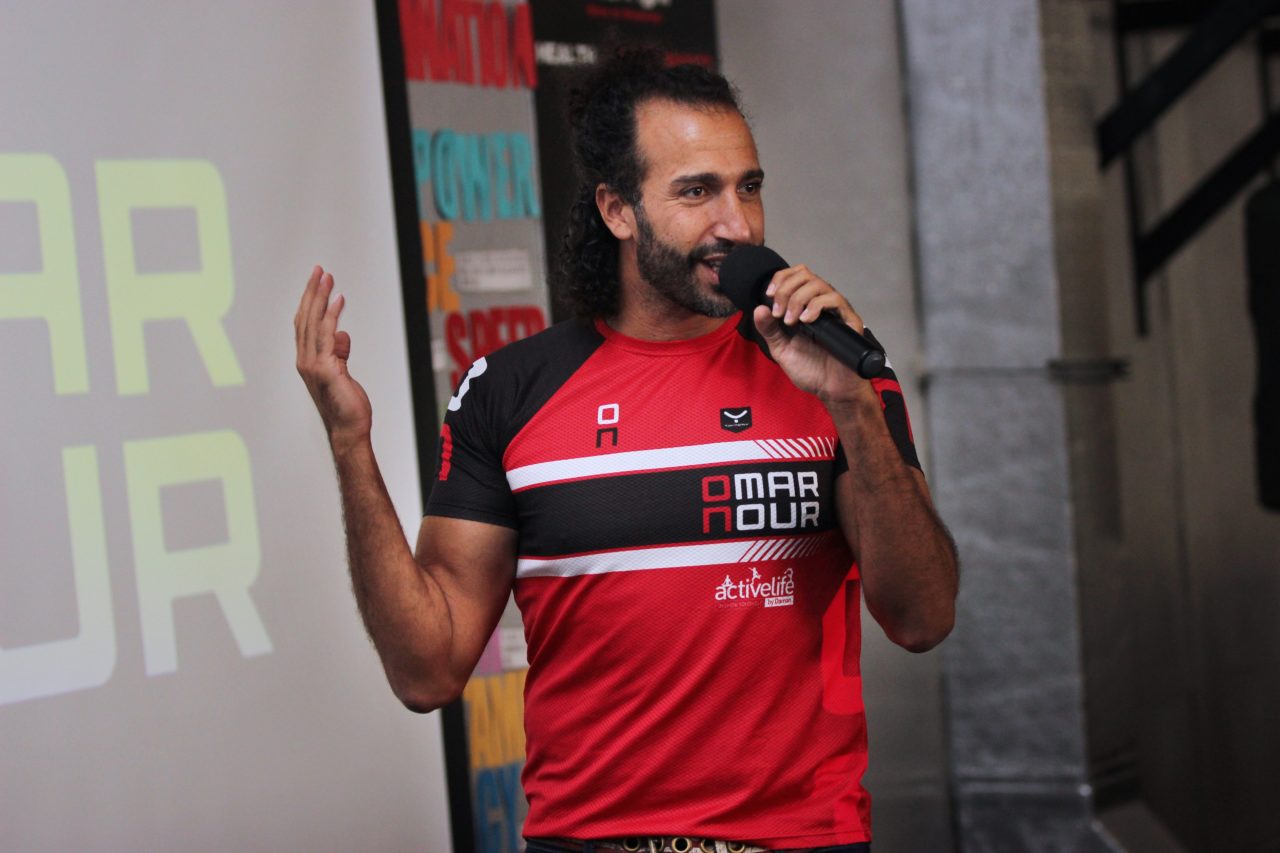 "There has been a massive growth in interest in triathlon from Arab athletes in recent years, both at the elite and amateur level," Nour says. "We may not have produced a world champion yet, but I definitely think it's in the works. 
"You have to remember, it's still a very young sport in the Arab world. When I started to do the majority of my training here, I was the only Arabic-speaking professional triathlete. And at an amateur level, Arab competitors were basically non-existent. 
"It was a sport for western expats, but even they couldn't participate regularly. The choice of races in the region was extremely limited as was the availability of products and of coaching. It was very much industry in its infancy."
The UAE has been central in the transformation of triathlon from niche workout to mass participation event. A desire to better promote a healthy lifestyle led to a number of initiatives and eventually, to Abu Dhabi securing hosting rights for the season-opening ITU World Triathlon Series event in 2015. 
Since then, the UAE capital has welcomed the sport's biggest names – including the Brownlee brothers and Mario Mola – every March, and has recently been awarded the hosting rights for the ITU Grand Final in 2022. 
A greater number of races and exposure to professional triathletes has certainly been instrumental in the rise in popularity. 
"There has been a big push in the region towards healthy living," Nour explains. "Resources have been invested in developing endurance sports and now that is bearing fruit. We see professional events like the UAE Tour cycling and the ITU World Triathlon Abu Dhabi, which bring the world's best endurance athletes to the region and help to inspire the local community. 
"But then there are also lots of community events, like TriYAS and Abu Dhabi Sports Council's community triathlon series in Abu Dhabi and the Roy Nasr Memorial Triathlon in Dubai, to name just a few. It's a constant stream, which means local athletes have some fantastic opportunities to get involved in the sport.
"Importantly, these races have their own history now. It's in the news, children see it and they want to get involved and that definitely includes Arabs. It used to be so heavily expat but now it has become part of the sporting culture, certainly in the UAE."
Nour missed out on his goal of becoming the first Egyptian triathlete to compete at the Olympics when he herniated two discs in his back six months before Rio 2016. It was left to Jordan's Lawrence Fanous to fly the Middle East flag in Brazil, and Nour hopes his appearance is just the beginning of Arab representation at the Olympics. 
"You can see that federations are now popping up across the Arab world," Nour says. "There is a lot of work still to be done as they are all very young federations. There is a lack of experience in developing talent, but that's normal.      The vision is there and that's what is important. 
"The answer to the question of 'How come there aren't many Arabs in triathlon?' is because there has been limited visibility. People are asking, 'Why don't we see it on TV? Why don't we see someone crossing the finish line?' But you are going up against countries who have done this for 20 or 30 years while your federation is just a couple of years old.
"We need to be patient but I have no doubt that sooner or later we'll see more and more Arab endurance athletes representing our region in world championships and Olympic Games."
Although he is no longer competing, Nour is still very much involved in the sport and insists that he wants a triathlon legacy that is about more than just results. 
"Triathlon is by nature a selfish sport but the fact is that race wins fade from memory. It doesn't matter how good you are, sooner or later you'll slow down. What you'll leave behind should be more powerful than a set of numbers and times. 
"I've made it my goal to get people excited about triathlon, so the thing that makes me happiest is when a teenager comes up to me and says, 'I heard you speak six years ago and you're the reason I'm doing triathlon.' When that  happens, I get goosebumps because you realize you are part of a bigger picture."
Featured image courtesy Omar Nour